Discover more from Russian Futurism
Russian avant-garde classical music of the 1920s and 1930s, with ventures into contemporary classical music
Review: Gregor Tassie's 'Three Apostles of Russian Music'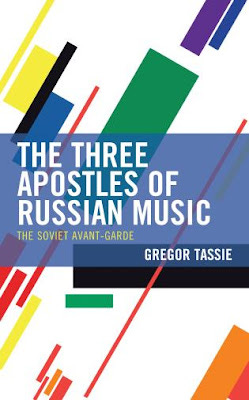 The Three Apostles of Russian Music: The Soviet Avant-Garde, Gregor Tassie, Lexington Books. 
I started this blog because I had discovered that I not only loved Prokofiev and Shostakovich, I also loved their lesser-known, very talented but persecuted colleagues, such as Nikolai Roslavets, Gavriil Popov and Alexander  Mosolov. I was determined to do what I could to help others discover these composers. 
Scottish musicologist Gregor Tassie must feel much the same way. His book, The Three Apostles of Russian Music: The Soviet Avant-Garde, discusses Roslavets, Popov and Mosolov, covering their most important works and providing context about their lives and work, including their 1920s and early 1930s heyday.
Tassie previously authored a biography of Nikolai Myaskovsky and of two prominent Russian musicians, the conductors Yevgeny Mravinsky and Kirill Kondashin. The biography at the back of his new book states teasingly that he's now at work on a biography about "a celebrated Russian musician." He apparently speaks fluent Russian, allowing him to quiz Russian college professors who are experts on the trio he writes about and to dig through primary source archives.
The result is a book that is heavily researched and a wonderful resource for fans of Russian avant-garde classical music of the last century. Fans of Prokofiev and Shostakovich also will learn much by finding out more about the milieu of the two best-known Russian composers.
Tassie is careful to tell the reader which of the men's works are particularly good and deserve close attention; his judgment generally seems quite sound to me (i.e., I often found myself agreeing with him.) For example, when I recently listened to a recording by the German group Trio Fontenay of Roslavets' surviving piano trio works, I noticed that I particularly liked the third trio. Tassie refers to it as an "outstanding piece."
Indeed, readers will want to pay careful attention to sentences such as this one, about Roslavets' Chamber Symphony No. 2: "In the context of symphonic works written during the 1930s, Roslavets's symphony justifiably stands with Popov's First (1934), Shostakovich's Fourth (1936), and Myaskovsky's Tenth and Seventeenth (1930)."
Many of the composers Tassie writes about were particularly edgy early in their careers but adopted a more conservative approach in their later years, and Tassie is careful to note that these changes in direction weren't solely because of pressure from the Stalinist regime. Prokofiev, for example, was already moving toward a more approachable style before he returned to live in Russia. And Shostakovich, Tassie notes, showed signs of toning down  his style even before the infamous attack in the pages of Pravda. 
While Tassie obviously admires the composers he writes about, he also points out their failings. Popov is depicted as indolent, slow to finish his work and prone to missing deadlines. Mosolov was very careless about preserving his work. And in fact, it's sad how much music has been lost or is in jeopardy. Many of the works of the three composers have been sitting in archives for years and are only known through the efforts of dedicated Russian musicologists, who are named in Tassie's "Acknowledgements."
 A careful reader will want to keep an eye not just on the text, but on the footnotes. For example, Tassie goes into considerable detail about Popov's film music, which allowed Popov to make a living when the composer got into trouble for "formalism," and at one point Tassie mentions a film director named Faintsimmer. The name meant nothing to me, but a note explains, "Alexander Mihailovich Faintsimmer (1906-1982) enjoyed a long career making his first movie in 1929 and notable for his 1934 film Lieutenant Kije with a score by Prokofiev, the suite from which became world famous."
As a kind of bonus, Tassie's final chapter discusses three more modernist Russian composers: Mikhail Matyushin, Arthur Lourié and Joseph Schillinger. The conclusion also puts Russian modernism in the context of global classical music modernism and touches on Russian composers who can be seen as successors to Tassie's trio. 
The book includes a list of works for each composer and a list of recordings. Fortunately, as the trio continue to get more recordings, the list is already a bit out of date. The Popov Quartet Symphony, which Tassie apparently likes, finally got a recording. 
This is a book aimed at the academic market and is unfortunately therefore rather expensive, so that perhaps some readers may have to resort to asking their local library to acquire it. That would also make the book available for others; good for Cleveland Public Library, where I found my copy, although (full disclosure) on the strength of this blog, the publisher agreed to let me have a review copy. I really wanted one; I am sure I will be referring to Tassie's excellent book many times.